This package is currently available for fully vaccinated travellers traveling in by air
Starting from 9,880 THB NET / 1 Person 
For more information about this package or to Book this package, please email us at:  reservations@cosyhotelandresort.com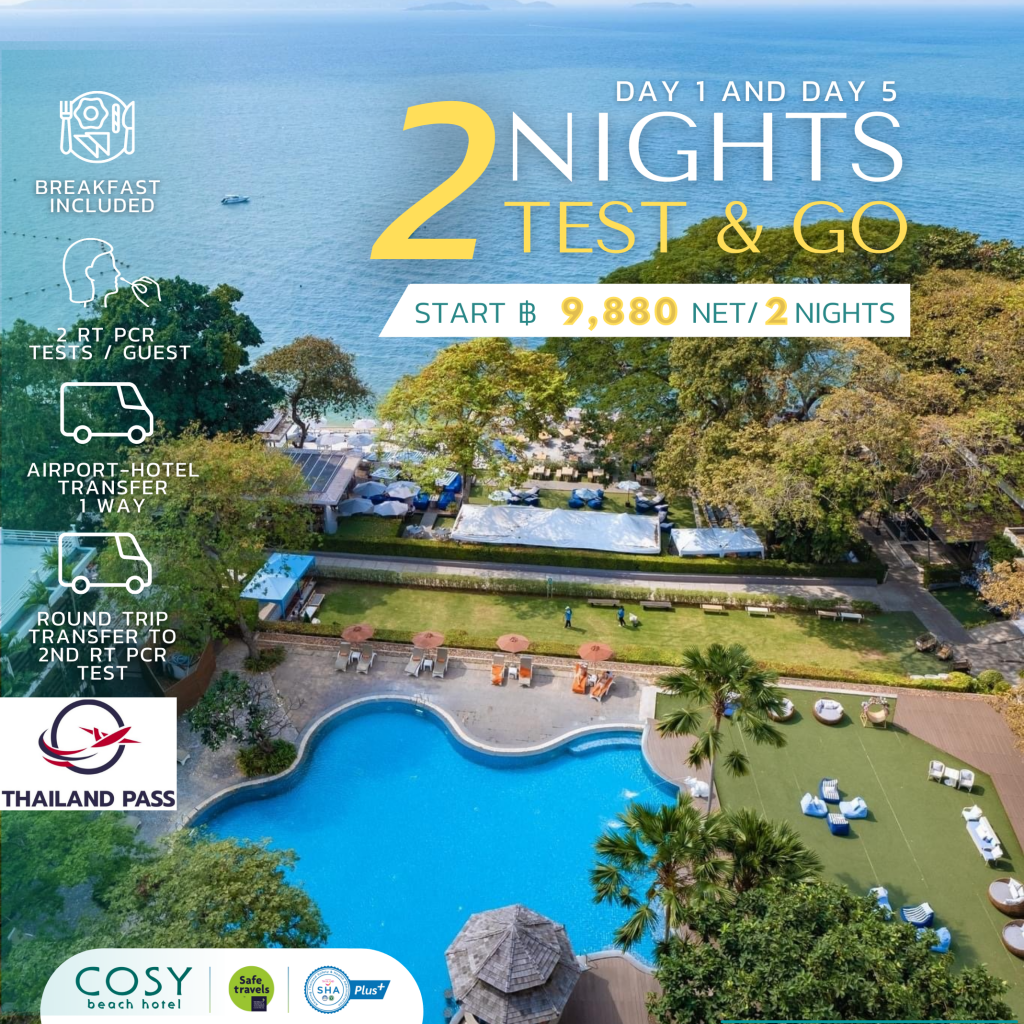 This Package Includes
2 Nights (Day 1 & Day 5) of SHA + Accommodation with breakfast for each guest 
One Way Airport pick up by SHA+ vehicle

from Suvarnabhumi Airport transfers to the hospital in Pattaya then to the hotel

2 RT-PCR tests per guest

, to be held at the partner Hospital in Pattaya (Jomtien Hospital managed by Bangkok Hospital Pattaya, open 24 hours for the RT PCR Testing, as per the arrival time) on Day 1 and on Day 5 ( day 5 appointments are available from 09.00 hrs to 18.00 hrs only) 

1 Round Trip Transfer from Hotel to the Hospital for 2nd RT-PCR Test
For more Thailand Entry requirements please visit : https://www.tatnews.org/2022/01/thailand-reopening-exemption-from-quarantine-test-go/
You can book directly by emailing reservations@cosyhotelandresort.com OR through our Official Website.
How to book via Official Website:
1.Choose your room. (You can view starting prices for each room type in the 2 Night Test & Go : Starting Prices by Roomtype & Occupancy table below) 
2. Book & Pay for Day 1:
3.Book & Pay for Day 5:

4. Email us ALL the required documents we need in order to issue your booking confirmation to reservations@cosyhotelandresort.com and schedule your Airport Pick Up & RT-PCR test :
Full names

Passport number/scan

Country/city of origin

Flight details 

Proof of vaccination 

A Certificate of COVID-19 Recovery (if you have only received 1 dose of vaccine OR have contacted Covid-19 over the last 3 months)
5. We will email your Paid Booking Confirmation which you can use to apply for Thailand Pass after you have paid and emailed us the required documents.
* If you are traveling with a child please choose 1 ADULT instead of 1 Child for each child so that our website system will calculate the cost of  RT PCR Tests for each child and indicate the age of your child in the "other requirements" section of the Booking Review & Payment Page. Otherwise, our reservations agent will email you with a secure credit card payment link for you to complete payment for your child's RTPCR Test.
*The package should be booked at least 3 days in advance to guarantee your transportation and RT-PCR test appointment 

2 Nights Test & Go Package | Starting Prices by Room Type & Occupancy 
| ROOM TYPES | View | Room Capacity | Single | Double | Triple | 5 Person |
| --- | --- | --- | --- | --- | --- | --- |
| OCEAN WING |   |   |   |   |   |   |
| DELUXE | UNSPECIFIED | 2 | 9,880 | 13,880 | N/A | N/A |
| DELUXE SIDE SEAVIEW | SIDE SEAVIEW | 2 | 10,280 | 14,280 | N/A | N/A |
| DELUXE FAMILY | UNSPECIFIED | 3 | N/A | N/A | 18,880 | N/A |
| DELUXE SIDE SEAVIEW FAMILY | SIDE SEAVIEW | 3 | N/A | N/A | 19,280 | N/A |
| DELUXE  FAMILY CONNECTING | UNSPECIFIED | 5 | N/A | N/A | N/A | 30,860 |
| DELUXE SIDE SEAVIEW FAMILY CONNECTING | SIDE SEAVIEW | 5 | N/A | N/A | N/A | 31,660 |
| OCEAN FRONT SUITE | UNSPECIFIED | 2 | 11,880 | 15880 | N/A | N/A |
| OCEAN FRONT SUITE SEAVIEW | SEAVIEW | 2 | 12,680 | 16,680 | N/A | N/A |
 Payment Condition:
100% Pre-Payment Non-refundable

ALL PRICES are NET (no additional fees, taxes)
 Package Inclusive of:
4000.- THB 2 RT-PCR Tests Per Guest 

2200.- SUV (1- 3 PAX) or 2800.- VAN (4-5 PAX) Airport Transfer 

500.-  SUV (1- 4 PAX) or 700.- VAN (5-6 PAX) Round Trip Transfer from Hotel to the Hospital for 2nd RT-PCR Test